Interface - interview with Ahim.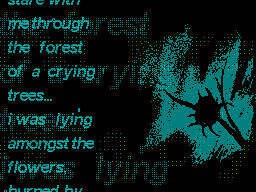 1.When and why did you start to make spectrum music?

2.I  suppose, the first technical experience you gained exploring
someone's  tunes  for  samples, ornaments and other tricks. Who
was  that  spectrum musician who influenced your music and whom
you can call your teacher?

3.What was the first music editor that you used?

4.What  do you think about your past as a spectrum musician, what
important moments in your progression can you note?

5.How  do  you think, do you have any fans, and what do you think
they  particularly  like  in  your music? Would you like to say
some words for them?

6.What  musical  instruments do you use (if you ever used) during
composing prosess? Do you have any experience of musicmaking on
other platforms? What do you think about it?

7.Do  you like to criticize yourself? What is the weakest spot in
your techniques (rythm, melody, arrangement or something else)?

8.What  kind  of  music do you listen, what bands/projects affect
you,  what  moods  and  feelings  you  try  to  put in your own
compositions? Remixes: what do you think of this?

9.What  music compos did you participate in, what was the highest
rate and what do you think about your achievements?

10.What do you feel when your track is playing on a party? Are you
concerned  with sound equipment, people that vote or it doesn't
bother you much?

11.Do  you have any interesting ideas about the future of spectrum
music?  Maybe  there  are some hardware or software innovations
that you would like to have?

12.What is the most interesting aspect in spectrum music composing
for  you  -  to  perfect  your  skills within the bounds of one
'style'   or  'genre',  or  to  continue  the  thorny  path  of
experiments with sound and techniques?

13.Can  you  tell  us  some  your  original ideas that you want to
realize  in your music, maybe you want to make a demo or a game
soundtrack,  maybe  just  to try what you have never tried yet,
the new field of applying your talent?

14.What   do   you  think  about  co-operative  composing,  is  it
interesting  for  you,  whom would you like to make music with?
Please name 3 authors among the contemporary spectrum musicians
that you like most.

15.Can  you  say  some words of advise for those musicians who are
just starting out?

---
Другие статьи номера:
Interface - interview with Ahim.