Adventurer #15

31 июля 2004
Editorial - создатели журнала.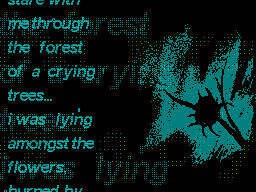 Credits                         
                                

adventurer programming:
alff

intro sequence:
elfh - conceptcodelyrics
miguel - conceptmusicfnt
moran - conceptgraphics
ahim - foto materials support

adventurer soundtrack:
miguel

translation:
miguel, elfh, alff, chasm

hardware support:
lh
clear

authors:
elfh/cpu
chasm/cpu
alff/cpu
miguel/cpu
moran/cpu
coco bryce/ucp
kq/skrju
sq/skrju
gd/triebkraft
cyberjack/triebkraft
gasman/hooy-programm
pyromaniac/mfx/mawi/clx
ellvis/zeroteam
simon ullyatt/cronosoft
alex xor/perspective group
flying/digital reality
c-jeff/green bit/brainwave
матлаш владислав
ahim/cpu
key-jee/triebkraft
alone coder/invaders8
riskej/oca
yerzmyey/hooy-programm

contacts:
e-mail: elphecy@softhome.net
tel: (+007-0855) 21-50-69
 (Konstantin)
snail mail:

Elfimov Konstantin Valerievich
11 Kirova street, apartment 158
Rybinsk city
Yaroslavl region
152934
Russia

en
some words about last mentioned
contact point - i really don't
know if  there any need in snail
mail addresses anymore. life aro-
und us is too  fast, people are
using internet, cell phones and si-
lence, trying to  minimize perso-
nal feedback. i would be glad to
reborn mailswapping, at  least, so-
me kind of it - send us, if you
want, postcards and photos of
places, where you live, pieces of
nature, surrounding you, anything
you  find suitable to express your
attitude.

ru
несколько слов о последнем спо-
собе связи - я действительно не
уверен,  существует ли необходи-
мость в моем почтовом адресе.
жизнь вокруг нас  несется слиш-
ком быстро, люди используют ин-
тернет, сотовые телефоны и  мол-
чание, пытаясь свести к минимуму
обратную связь. я был бы рад  воз-
рождению почтового обмена, ну
или чего-то в похожего - присы-
лайте  нам, если желаете, открыт-
ки и фотографии мест, где вы жи-
вете, окружающей  природы, да и
вообще всего чего угодно, пригод-
ного для выражения своего  отно-
шения.

---
Другие статьи номера:
Editorial - создатели журнала.