Subliminal Extacy #03

01 апреля 2001
What A Shame!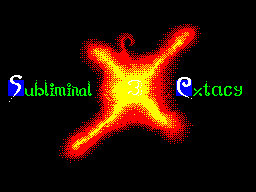 What A Shame!

                           By Factorб

What a shame!

Every  west/middle  European  Speccy  scener  has  to  say  this
sentence, when he gets hold of  a new eastern demo done on  some
clone.

Yes, we think then:  Lamers! We can't load  it, when we run  it,
damn, it's slow as hell, it snows, it resets in the middle.

Fucking lamers!

The world of the scene is also about respect between sceners and
their works.  And they  don't respect  us. Why?  It's simple: If
they had some respect, they would do demos for Speccy, not for a
clone.  For  Speccy  means,  it  should  work  on  all   massive
widespread ZX Spectrum models all  over the world - not  only on
e.g. Pentagons in Russia.

When it's not, it's a big fucking to us. They don't respect  us.
And this is not a scene! This is a shit, don't you think?

So, please, more  compatibility = more  respect! Think about  it
strongly!
---
Другие статьи номера:
---
---
Похожие статьи:
---
В этот день... 11 декабря
---