Scenergy #02

31 декабря 1999
Demo Party - CC999.999 information (eng).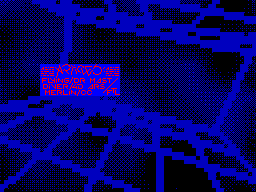 Welcome to the information sheet of the demoparty
  chaos constructions ninety nine nine point ninety nine nine

[x]: Contents..........................->

[1]: What is CC999.999.................->

[2]: Why do we need CC999.999..........->

[3]: About entries.....................->

[4]: Rules and regulations.............->

[5]: How to vote.......................->

[6]: List of entries...................->

[7]: Contact the organizers............->


[1]: What is CC999.999

   Chaos   Constructions   999.999  is  the  demoparty  (further
referred  to  as to the "party") for the spectrum sceners. It is
not  your  "normal" party, this time it is 'virtual'. that means
that   although  there  will  be  no  centralized  party  place,
everybody  are welcome to participate and visit or organize your
local  'office' of this party. Party will take place starting on
the  1st  of  December  of  this  year and will finish on 1st of
January  2000.  During this time all of you are expected to cast
votes on the entries.

[2]: Why do we need CC999.999

   Yes,  we  all know too well that this year has been very rich
on  parties,  I  think  we've  set  a  record  on  the number of
different parties. Most of them were organized in Russia, around
the  same time (summer). Yes, it is good because more people can
attend  these gatherings, however, let's not forget that none of
these  parties had more than couple of demos and around the same
number  of  intros.  That's kind of sad, since it is quite clear
that  some  entries were done on the completely different level,
compared  to the demos/intros presented on the same party. Well,
wouldn't  be  nice  to  see  how  do these master pieces compete
against  each  other? Yes, it would. That's the first reason why
we  need  this  party.  The second one is very trivial. Not many
people  had their chance to actually vote on these parties. Some
people  just  weren't there, some people couldn't vote (like us,
poor  organizers).  Well,  now it's going to change. We will all
have  our  chance  to have our say. There goes the second reason
why.  There're  many  more,  but we'll stay with these two for a
moment.

[3]: About entries

   We've  set one very simple rule on the entries. all intros in
4k category and all demos for spectrum with memory of up to 128k
(no  matter  what  kind  of  clone  this entry was designed for)
produced  in  1999  are accepted for the competition. No entries
from  previous years are accepted. Music or graphics entries are
also  accepted  despite  the  fact that there're way too many of
them.

[4]: Rules and regulations

   Well,  there  aren't that many rules really. You can not vote
for your own production and you can not vote more than once. The
rest is up to you. How many entries you will judge is up to you,
but minimum is 5. Minimum score for the entry is [1] and maximum
[10].  Your  votes  must  be  submitted  this year (the absolute
deadline  is  31st  of December. Late entries won't be accepted,
unless  there's a _really_ good reason, but even then, week into
the  new  year  your late votes will be lost, so don't be late).
Results will be announced on 17th of January 2000.

[5]: How to vote

   Voting is quiet simple. You watch all the stuff released this
year  at  the  parties  and pick your favourites or just cast an
appropriate  vote  for  every  entry  you can find. Last case is
preferred, to form a good results. Don't forget that you need to
vote  for  at  least 5 entries. Also remember that it's always a
good  idea  to  throw  a  party  in, invite all your friends and
fellow  speccy  sceners,  get  everything  you can get from this
year's  parties  and  vote  vote vote. More people you can get -
better it is. Please don't cheat or the entire scene will suffer
and you don't want that to happen, do you?
   So,  to sum everything up - Get as many people to vote as you
can, Vote for as many entries as you can, send the votes as soon
as possible. Support your SCENE.

[6]: List of entries

  <cut here>

[7]: Contact the organizers

   The  addresses  you can use sending your votes in or anything
else:

  FIDO:
        2:5030/920.20
        2:5058/88.303
  EMAIL:
        scenergy@chaosite.com

---
Другие статьи номера:
Demo Party - CC999.999 information (eng).