Demo Party - POL/PHT: отчет о Doxycon '99.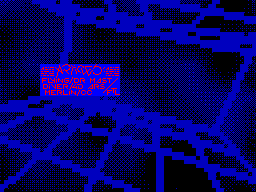 Doxycon '99 party report
         [short stuff by pol/pht]

 Doxycon,  the  third,  was held in Doksy,
Czech  Republic  23-25.7.  1999. As one of
the  ppl  partying  there  I'll  type some
words about it.

 About 30 spectrum ppl on Dx99 - that were
Czech,  Slovak  and  Austria  scene.  Most
known  ppl - K3L, NC, 3SC, Tritol, Jan K.,
Phantasy.sk (yes, that was me:), etc. Only
one  official program - compo was released
at  Saturday  evening.  Three demos, three
intros,  many pics and musics. First place
was   unfinished  Omega's  production  and
that's  the  same  destiny  as K3L's first
place at Dx98. It means it wasn't released
for  distribution.  We  must  wait for the
final version.
 Some  interesting  hw  was shown at Dx99.
Jan  K.'s  512kB RAMdisk in his Didaktik M
128.  Animations from Power Up and Refresh
were  played  at  high speed from this big
memory.  Really  nice  was  using of BSROM
(for   systems   with  MB02)  in  ordinary
spectrum.  You can reset your computer and
no datas are broken.

 MB02  -  that  fenomenal disk system with
high   speed   of   disk  operations.  New
commander  is  prepared for MB02. It seems
to  be  the  best disk commander ever. LCD
from  Austria  bings  his spectrum+MB02 in
beautifull pC case with external keyboard.
Very  nice styled. HDD and spectrum? CDROM
and  spectrum? YES! We can saw one part of
Simpsons  played  by  spectrum  with  full
screen picture (b&w) and fully with sound.
It was played from HDD. CDROM is connected
too  but I don't know any working software
for  it.  Only  Tritolsoft's routines. HDD
and   CDROM   is   connected  via  special
spectrum   IDE   interface  (very  small -
5x5cms).

 Poke  Studio  brings  his TRDOS system so
non-TRDOS  users  can see new software for
it.  I was suprised with its speed as it's
faster than emulator.

 Doxycon  '99  wasn't  very  big party but
very  nice  and  friendly.  We can saw new
projects,  discusse about spectrum things,
crack  some  TRDOS  loaders  [:-)] and got
some beers:)



For ScenergY typed by Pol/Phantasy
---
Другие статьи номера:
Demo Party - POL/PHT: отчет о Doxycon '99.