Scenergy #02

31 декабря 1999
Lits - speed.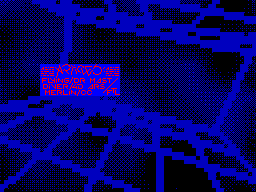 It just had to begin there, sooner or later,
 And now we see them coming out of the black,
 Perhaps one of us has always been traitor,
 Who would bring all of us down with some deadliest plague.

 Watching the best friend die in your arms,
 Hearing the horrofied screams of the ones who you loved,
 Smelling the smoke raising from burnt-down farms,
 None of it even gets close to get you feel bad.

 Shame has left this world without notice,
 None of them asked you "What's Wrong?"
 Just knowing that new satan's apprentice
 Will slave for the master and moan.

 For some people life will get messy.
 For others, new options will raise,
 Human flesh won't get any tastier,
 And your fate will be thrown like a dice.

 Falling to pieces your sanity breaks,
 Brain stops making thoughtful decisions,
 But you will go on and do all it takes,
 To make them listen to your useless opinions.

 Your first task has always been dreadful -
 Kill your best friend by telling him lies.
 Smile of dissolved girl in the blood pool
 Forever will stay in your eyes.

 Scary thoughts should not trouble you!
 Sleep well and, please, rest for next day,
 Important ideas will pass your head through,
 However, don't worry, enjoy your short stay.

 I don't know where this passage will lead us,
 I'm not sure it will go very far,
 Stopped to listen to the sounds of Jazz,
 Your victim will visit the star.

     .serial killer's daughter's notes.

 Thrusting your knife so deep in her body
 Has always made you feel in strange way,
 You could not live a day, my dear daddy,
 With no looking for next one to slay...

 This one reminds me of mother,
 The same colored blood on the floor,
 And her beautiful hair, like feather,
 Was all messed up and wanted some more.

 That one did remind me of mother,
 When she bled all over your shirt,
 And her hair, just like black leather,
 Were sweeping the hallway of fort.
---
Другие статьи номера: