Demo Party - информация о предстоящем пати PHAT'0.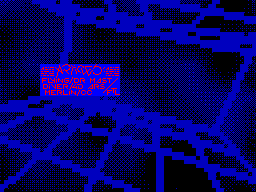 the second cuming
-
was  PHAT9  succesful?  yes,  if  you are asking me. it was very
small  scale  party  though.  PHAT0  will be a bit larger, still
keeping  the  cosy and intimate atmosphere. it is supposed to be
meeting  of  Phantasy  and  Dual Crew Shining members, but it is
also open party for everybody willing to experience something...
different?  eh,  cliche!  just if you like something most people
tend  to  call  weird  experience,  be there! for us, it is just
another  sign of fact that there's an essence of life, equal for
everybody still being different.

tell me where

-
maybe it will be stylish. but it will surely be fun. the parties
of  PHAT  series  boast  very carefully selected partyplaces. we
don't  throw  party where we can, we hold them where we want, be
it  legal  or illegal. this time it's very simple choice - party
will  happen nearby place main organizer Raver is living at. the
country  is Latvia, the city is Liepaja and the area is Karosta.
oh?  Latvia  is one of Baltic states, which was occupied by USSR
for  an half century, revolution happening exactly ten years ago
returned  our  independence  leaving traces of the happy days of
communism.  Karosta was soviet military town where officers were
living,  with  port nearby where nuclear submarines were hanging
around and with loads of secret bases and bunkers in the forest.
party  will happen there everywhere as well as crazy games right
under  the  blue  sky  and right under the ground in the tunnels
too, so lets call it underground!


tell me when
-
eh  later. august or september. if you need to know date as soon
as  possible,  mail  us and tell when it is good time for you to
come and that will also help us calculating the exact date.




action
-
aha.  PHAT  parties  are having compos too. officially for 8 bit
machines  though.  speccy,  c64,  atari8,  cpc, gbc but stuff on
anything  else  we  can  call a computer is welcome. categories:
demo,  music,  gfx  and  1kb  intro. no rules, you know what you
shouldnt  do already. just lake previous year, you can send your
entries to us and take part without being presented at the party
personally. give us your stuff to judge!
more, it's a party. we will have warez kiosk here where you will
be able to buy very special stuff or just exchange it for yours.
live   bands  and  dead  djs  playing  anything  from  punk  and
hardcore  to  techno  and  drum'n'bass, maybe even some big-name
guys  will be present, yet we will keep it small and cosy, don't
worry  about  crowd  of  progressive  youth.  we  will also have
various  interesting  and  scenish games around the area, having
excursions   to  the  city  center  and  beach  nearby,  various
real-time  projects  going  on  during  the party, like making a
movie and perhaps some more.


comfort and big bucks
-
it's  all for free - partying and sleeping place. food will cost
something,  but it will be delivered at very cheap prices and it
will  be  good and warm! you will be surprised by latvian prices
anyway.  donations are welcome though - be it money or hardware,
so we will have some prizes then and if lucky enough, cover some
party organizing costs.


finally
-
just  come,  it's isn't that far away, it's not so expensive and
it's worth to check a new places from time to time. stop moaning
how  shitty  the parties are, just support good ones! and... the
things  mentioned  above are not 100% guaranteed. there might be
changes  - something might be cancelled and something added, but
be sure, we won't disapoint you by having a boring party!

contacts
-
emails of organizers:
Raver/Phantasy/Dual Crew Shining - raver@dc-s.com
Brain/Phantasy - brain@andrews.lv
some more dudes to be involved soon

websites:
http://phat0.phantasy-hq.com 
Karosta - http://www.liepaja.lv/karosta
---
Другие статьи номера:
Demo Party - информация о предстоящем пати PHAT'0.
---
---
Похожие статьи:
---
В этот день... 25 сентября
---