Demo Party - приглашение на латвийское демопати PHAT'9.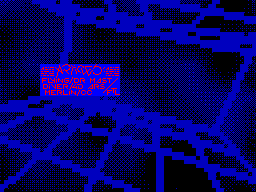 PHANTASY and ILLEGAL PROMOTIONS

          invites you to the true eight bit show

                         PHAT9

             >stick that nuke up your ass<

                 in Salaspils, Latvia

           Institute of Inorganic Chemistry

                     24th september

                      c=64/speccy

                     three days of

                 PHreedom & ATmosphere

Trained for phreedom

The 24th of september 1999 will mark the beginning of the true
eight bit show, the only party on the Earth where two of the
biggest eight bit scenes will meet in a joint orgy. To be as
tight as possible, the event is meant as a source of inspiration
for all the 8-bitters left, it's meant as an event not to
forget, something what you can call an adventure played with
trainer "phreedom & atmosphere" turned on.


Compos

Usual compos will be held, for both c=64 and speccy, that means
gfx, music and demo plus additional category - intro no larger
than 1024 bytes. You can also take part in the compos remotely
by sending us your stuff before the party. That's not exactly
what you should do. Don't miss the party you will never
experience again unless you really can't be there.

Dance to the SID

On the night, there will be a "party in party" - 5000 watts will
boom out SID for you! Yes, expect a SID/AY (speccy soundchip)
set and sceners-deejays playing electro/techno/drum'n'bass on
SL1200's! You can also sign up as a DJ, just bring your vinyls
with you.


Day, Night, Day, Night and another Day

That's the way we'll live during phatdays. Friday, 24th
september is the day we are preparing everything for the party
and the visitors will start to arrive in the evening and during
night. They now have chance to rest and have a sleep after the
long hard journey. Saturday, when the sun is up, the binary
action will commence with watching classic demos on both
platforms. In the evening, the compo works will be shown, after
that the voting season starts, which will end the next day. But
in this evening we also promise the "party in party" with
sceners spinning all night long. When the morning comes, the
results will be announced, we say our good-byes and... Yes!
You can go and sleep for around 10-12 hours and then head for
home sweet home.


Nukes all around us

The venue for PHAT9 has been specially selected to create a very
special atmosphere. A subtitle hint is that the venue has some-
thing to do with nukes (not asses!). The Institute of Inorganic
Chemistry is a soviet-styled part of Salaspils, 10,000 people
populate the town, situated approximately 20km from Riga, the
capital of Latvia. For some wondering what the hell Latvia is,
here's a small explaination: it's one of the Baltic states,
which foreigners love to call ex-USSR even if the revolution
happened ten years ago. And, no you don't need a visa to come
to Latvia! For detailed info on how to get to the partyplace,
check our homepage or get in touch with us! There will also be
a 24h helpline to call during the party.
Break the rules

No need to break them. Because there are no rules, we're sure
you'll know how to act. Feel free to smoke, drink, do drugs,
scream or fuck at the partyplace. But of course there are things
you shouldn't be doing. Remember that security will have no
rules as well.


Contacting da phat guyz

Homepage: http://phat9.c64.org
E-mails: phat9@c64.org, egons@re-lab.lv, illegal@chaosite.com
IRCnet channel: #phat9
Phone#: +371 7627000, +371 9114788
Fax: +371 7627000
Snail mail: PHAT9, Mukusalas 56-2, Riga, LV-1004, Latvia



The Gods of invitation

Text: Raver/Phantasy
Code: Warp 8/Phantasy
Music: Fanta/Bass/Oxyron
Graphics: Cupid/Padua/Hitmen

---
Другие статьи номера:
Demo Party - приглашение на латвийское демопати PHAT'9.
---
---
Похожие статьи:
---
В этот день... 30 сентября
---