Subliminal Extacy #01

01 января 1995
AMANDAS ALL NEW X-RATED DIARY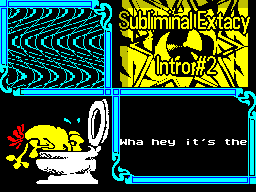 ┌──────────────────────────────────────────────────────────────┐
│                  AMANDAS ALL NEW X-RATED DIARY               │
│                                                              │
│     THE KNUCKLE GIRLS, 2 BELVOIR ROAD, NOTTINGHAM NG2 SDL.   │
└──────────────────────────────────────────────────────────────┘

Welcome to the new improved Diary, free from the constraints of 
5k of memory, BASIC programming and sadly GRAPHICS! But what    
were limitations in SINCLAIR CLASSIC has become a vast adventure
playground for my pixeled musings.                              
                                                                
I hope no one mourns the passing of SC, lets just say Subliminal
Extacy has incorporated all the best bits and coated the whole  
business in a sticky honey Machine Coded love juice! I was      
getting a little pissed off with complaints over language, so   
Fuck, Arse, Nipples, Rectum, Shit, Wank and Bacon licking.      
                                                                
You may have heard that Claire has left the KNUCKLE GIRLS to    
concentrate on sucking her boyfriends large cock. And it is     
large readers- I had a crafty look as he was in the bath. Our   
flat in New Cross has only one door; the postman puts letters   
through it. This is a bit 'hippy', certainly very sixties but we
are no backward longhairs- three were used on a bonfire in 1992 
and the other one got kicked in by a drugged up Scottish bastard
(who incidentally is currently residing in a Dundee jail for    
killing his Mother!! - this is true folks). No friend of mine   
but you can't vet everyone who comes to your party.             
                                                                
Back to this cock then. Fucking big and juicy - pity the rest of
him is like a beached whale but you can't have everything.      
Claire is still playing games on the London Speccy (a knackered 
heat-sinker) and doodling with Art Studio but there will be no  
more scrolly text from the big titted one. I've had to get      
FUDGEPACKER in on the lower case font just so I have someone to 
slag off.                                                       
                                                                
No doors mean sex noise. Claire makes alot of noise, a bit like 
one of those hot air ballons being burst by an exocet. I've     
suggested putting a bit of masking tape over her mouth but she  
seemed to like that idea; her eyes glazed over and suggested it 
might also be fun to tie her legs to the bannisters too.        
I'm a bit more old fashioned; a good hard shag and a fag after. 
                                                                
So I'm now looking for new FEMALE members to join the KNUCKLE   
GIRLS. Or maybe I should go solo... how many girls do creative  
stuff? How many girls are reading this? Please write to me as it
would be great.                                                 
                                                                
Fuck its cold in here. Have Nottingham people not heard of      
central heating? OK so it's 2.58 am and everyone else is asleep 
(apart from the kittens). I figure that if I go to bed at dawn  
then I get up at 2pm (when the gas heating gets going). Bit of a
waste of the day but who cares - plenty of time to be           
conventional when I retire. Why does your cunt have to dry up   
when you hit 45? I've always said that when that happens, that's
when I take the pills.                                          
                                                                
Jesus, Kate Bush has just come on the radio - fucking middle    
class hippy chick! Actually I don't really dislike middle class 
people, it's their friends and families that piss me off. They  
all look the same and act the same like a bunch of fucking      
robots. And they are so fucking tight! You'll never see one     
buying a round of drinks or getting a cab (they walk unless     
Mummy has lent them the Volvo).                                 
                                                                
I've no idea when this first issue is coming out but I'll tell  
you about my new demo (actually I've not started it yet). It is 
called TURTLEHEAD; picture the scene, miles from home, you've   
missed the last bus and you are straining for a shit. All sorts 
of ideas go through your head. Can you shit behind that wall?   
What if a pig copper comes along or a gang of bikers? Could you 
bear walking along relieved but skidding up your pants? This is 
TURTLEHEAD - despair, pain (quite a delicious pain really) and  
total lack of control - just what a good demo should be about!  
I might do some 'nice' safe ST tunes with verses and choruses   
and stuff, just to prove I can. It's not hard, you just have to 
think like a boring muso and lower your standards like Roxette. 
                                                                
Have you heard that ST sound LA did in the guest scroller part  
of INNER UNIVERSE? Fucking blinding mate! I've got my +2 put    
through the Hi-Fi (in the CD holes fact fans) and I blast it    
through my headphones and gurn my face to the beat. All these   
Euro wankers can't touch the British for bitchin' ST grooves.   
They don't really get much chance; apart from techno stuff from 
Germany and Belgium all they get is bad heavy metal and American
FM radio style bollocks to inspire them - safe and sterile.     
                                                                
TECHNO CHAOS from CBM is sort of ok but I don't rate that SAMPLE
TRACKER thing, or more importantly, the pussy samples you get.  
It needs some evil bass grabs and screaming electro bleeps.     
But what the fuck, music is just entertainment and not worth    
arguing about. Anybody who takes music seriously needs their    
bollocks kicked in. Or cunts.                                   
                                                                
Now that Bad Influence and Gamesmaster have finished the latest 
series it leaves TV void of computer game programmes. I believe 
Violet Berlin does some stuff on Sky but who has a ugly great   
dish bolted to the side of their houses? Mind you, both shows   
were devoid of Speccy stuff as you'd expect. Listen out for a   
radio show on BBC Radio 5 called the 'Big Byte', it goes out on 
Sundays at 12pm or something. They have mentioned Speccies (and 
not always in a negative way). A regular contributor is Jon     
Bates who used to do the music bit in Crash. Erections at the   
ready as Violet also appears from time to time. Cool hair Vi!    
---
Другие статьи номера:
AMANDAS ALL NEW X-RATED DIARY