Subliminal Extacy #02

01 января 1995
WHAT THE HELL IS THE WoMo-TEAM?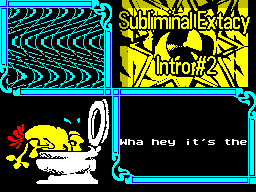 WHAT THE HELL IS THE WoMo-TEAM?                 
                -------------------------------                
Hi readers from SE. This is a short description about us, called
the WoMo-Team. Wo is the abbreviation for Wolfgang (a prename   
what must be sound very strange for british people, meaning: Who
goes with the wolves) and Mo stands for Monika (not so strange  
for bristish people, meaning: Monika).                          
You might think now: okay, but is that all? Except you know     
about us as writer and partner from Alchemist. And from now on  
also for the guyz L.A. (Los Angeles?) (Legless Addict, Luitenent 
Arsehole.ED) and Bogie (Wogie? erm... think it's not quite      
rightly spelled...) for SE.                                     
                                                                
First of all about us to state is our english is not the best   
(learned in an autodidactic way by looking Beavis and Butthead!)
but acceptable, we think. We start now an imaginary interview.  
                                                                
Mo: What will you tell the readers sitting with beer and chips  
before their TV?                                               
Wo: Erm... where is my beer?                                   
Mo: No, serious!                                               
Wo: Okay. We are the leading team from "Spectrum Profi Club"    
in Germany, one of the two important clubs here. We have about  
135 members and edit a monthly magazine with always 16 pages.   
But that's not all. There is still our "WoMo PD" which is in    
fact a "SPC" club PD and it contains dozens (or more) of        
programs.                                                      
Mo: But not only programs. What's with demos.                  
Wo: Yes, all kinds and sorts. From easy peasy demos to some     
very strange like that from a group called Ex-taxi or so.      
Mo: Stop it. Do you think, L.A. and Bogie will edit this?      
(Ofcourse we will, you want colour don't you?? And because I'm 
so nice, I'll even put a bit of clip-art at the bottom!!)      
Wo: Why not. They look like democratic persons. That should not 
always be so in the british Speccy scene as we are informed.   
Mo: Yes, we think there are "flippenflappen" in the scene.     
Wo: Flippenflappen? I remember. SE1 - german to whatever        
translator, have asked L.A. what some of this words has meaned. 
his answer was short and full of the worldwide famous british   
(black) humour: "Klunkenklikken".                              
Mo: We have a lot of contacts to other groups and clubs. Will   
you drop some lines about?                                     
Wo: Why not. Since the ending of the international mags like    
Your Sinclair, Sinclair User or Crash we run in the danger to   
become an island here. But others felt the same and so we came  
in contact with a lot of other clubs. The importants are the    
SUC under the managment of Thomas Eberle and Fred Duerkes,      
better known as "The Unbelievables" in the demo scene, The SGG, 
our Dutch partners, Alchemist (our most important partner in   
Public Domain and information exchange) and a lot of            
programmers and demo writers (which are of course also          
programmers). Otherwise we exchange mags with several clubs     
such as SCB or Sinclair Freakeren. Excuse to all I've forgotten 
to name.                                                       
Mo: What do you think about SE and the future of it?           
Wo: Well, the idea is well, but they need more support, mainly  
in a serious way. Humour is good, but only humour has no        
lasting effect. The users want information, tips, programs or   
everything around the Spectrum world. And, as a "replacement"   
for Sinclair Classic (which was very popular here in Germany),  
it shouldn't be restricted to a "read mag", it needs more       
grafic, and if possible in colour. (I hope you like this issue, 
with it's colour and graphic.ED)                               
Mo: What will we do for SE in the future?                      
Wo: Exact this. We will give information on the serious side.  
Mo: A last word...                                             
Wo: ... Flippenflappen (I love it). (So do I.ED)                                                    
                                                              
                         
             The WoMo-Team/SPC      
                         
         Wolfgang & Monika Haller   
                         
                Ernastr. 33         
                         
         D-51069 Cologne (Germany) 
---
Другие статьи номера:
WHAT THE HELL IS THE WoMo-TEAM?