#04

30 ноября 1995
Part 6 - Spectrum quiz II.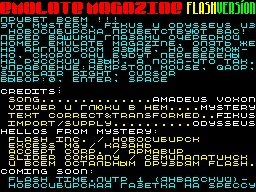 ==========================================
*******************************
*  PART 6 - SPECTRUM QUIZ II  *
*******************************

Here's  the  answers  to last month's quiz
questions. How did you do?
1.  What  was the name of Ocean's Spectrum
Budget Label? THE HIT SQUAD
2.   What   the  award  called  given  for
pointing  out  mistakes  in Your Sinclair?
TRAINSPOTTER'S AWARD
3.  How many different views did Doomdarks
Revenge boast? 64000
4.  Which Level 9 adventure contained over
6000 locations? SNOWBALL
5.  What  stared  at  you in the Mirkwood?
PALE BULBOUS EYES
6.  Who authored the majority of the Delta
4 adventure games? FERGUS MCNEILL
7.  What  characters  could you be in Atic
Atac? KNIGHT,SERF,WIZARD
8.  The cheat for Count Duckula turned you
into what? BOTTLE OF BANANA MILK (!)
9.  What  was  unusual  about  the loading
screen  for  Locomotion?  IT WAS A SLIDING
PUZZLE
10.   Which   program,   given  away  with
Spectrum,  let you design circuits? MAKE A
CHIP
11.  Where  was  the first Dizzy game set?
KATMANDU
12.  What  was  the  evil wizard called in
Feud? LEANORIC
13.  What  happened  if  you stayed in the
bedroom  in  Gremlins for too long? A DART
WAS THROWN AT YOUR HEAD (!!)
14.  What  was  the  name  of  the  second
Freescape game? DARK SIDE
15.  Usagi Yojimbo was also known as what?
SAMURAI WARRIOR
16.   What   could   Wonderboy   ride  on?
SKATEBOARD
17.   What  was  the  name  of  the  ghost
featured in Olli and Lissa? SIR HUMPHREY
18.  What  were  the  names  of  the  five
members  of  The Wild Bunch? HARVEY LOGAN,
BEN KILPATRICK, ELZA LAY, HARRY LONGBOUGH,
GEORGER PARKER
19.  There  was  a  very  unusual ship you
could pilot in Mercenary. What was it? THE
CHEESE
20.  What  was  the  first Spectrum Budget
Game to get a Crash Smash? BOOTY

YOUR SPECCY RATING:
1-5  :  Put  the  powerpack  on  a  firmer
surface next time!
6-10  :  Not  bad,  but  the  powerpack is
hardly warm!
11-15  :  Your  joystick has a little wear
and tear from all that waggling!
16-20 : A true Spec-chum! Watch out or the
powerpack will overheat!

Another  set  of  questions  to  test your
Speccy knowledge next month!

==========================================

---
Другие статьи номера:
Part 6 - Spectrum quiz II.