Demo or Die #01

28 февраля 1999
Greetz - приветы всем кто еще не бросил самый кульный комп на свете - Spectrum!!!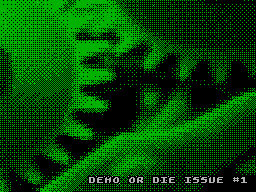 __________________________________________


       (C) MONGOL/DELTA CORPORATION


   Привет всему Speccy-люду!!! Вот я решил
тут   передать  приветы  всем  (ну,  почти
всем;-)))  тем,  кто  еще  не бросил самый
кульный комп на свете - Spectrum!!!


          Sends greetingzzz to:

   Delta  Corporation:  Mongol, BitMaster,
Father  Michael,  Taurus  (правда не очень
хорошо  передавать  привет  самим себе, но
все- таки;-)))
   Etc  Group/SCENE: Kenotron, Wolf, Lazy,
Slater, Devil...
   Bat
   BrokimSoft
   Proxima: Vel, Sergius Puzzler...
   Eternity Industry: Sairoos, Senat, Ash,
Crazy, Spy...
   LodeStar Software Group: Snake...
   Phantom  Family: Dr. Sioux, Maddy Vins,
Simm, Andrew Fer...
   Lave Software: Baca, Vicok.
   Flash  Inc:  Amadeus  Voxon,  Dr. Bars,
Fikus, Slack Den, Ximax...
   Hardwave  Crew: Mitchell, Steel Dragon,
Mr. Z.
   Excess  Team:  Hacker Gri, Lion, Casio,
Siv Blader...
   Brain Wave
   Destruction   Team:  Strake,  S-Hunter,
Graf, Azy.
   Perspective Group
   Global  Corp.:  Dr.  Max,  Alex Kerman,
Twin...
   Proxium: Fst, Dst, Dr. Longman.
   Playgear: Ze Pagan, Daniel, Cardinal...
   Die Krupps Group: Criminal, Lord Archy,
Prisoner.
   Digital  Reality: Arty, Flying, Sauron,
Den, Terror, Joe, Orion, Oz, Radio Alex...
   Image  Crew:  Boh,  Sm, Morphiy, Shock,
Bil, Max, Scooter, Envelop.
   Progress:  Mic,  Rom,  Fux,  Ksa, Gena,
Kolver.
   E-Mage: Kva, Rum, Scratcher...
   X-Trade: Ld, Dark, Dangerous.
   Code Busters: Rst#7, Klav, Maxi...
   Enigma
   Xl-Design
   Zer0:   Zhenya,  Flp,  Kid,  Mas,  Rnd,
Rajah...
   Phantasy:    Jaan,   Zool00k,   Hazard,
Raver...
   Copper Feet: Славик...
   Dreamer
   Fatality: Mast, Ars, Nick...
   Silicon Brains
   Antares: Miron, EA-Soft, Konex, Fil.
   Power of Sound
   Power  Hackers  Group: Imperio, Jaguar,
Delta.
   Virtual Brothers
   Atomic Destruction
   Atlantis
   Mayhem: Fyrex, Amok.
   Stalker
   Galaxy
   Max Petrov
   Real Masters: Vlad Petrov...
   Air
   Power Group: Savage, Basara, Ishma.
   Dmitry Pyankov
   Vts
   Blaz
   Area Software: Sobos...
   Death Moroz
   Syndrome: Spark...
   Triumph: Ice Di'Griz, Blade...
   Nothern Lights Group: Sav, Complion.
   Vega Group: Nightman...
   Seven Gods
   Concern Chaos: Random...
   Extacy-3
   3SC HardCore: Baze, Astex.
   Tgm Crew: Dj. Sky, Mr. Kid.
   Naughty Crew
   K3L  Corporation:  Dron,  Bell, Marwin,
Eye.
   All SCENE
   All Amazing Software Making
   All Extreme
   All RUSH ispa
   All BDA
   All Sibirian Aliance
   and You of coz!!!

__________________________________________

 
---
Другие статьи номера:
Greetz - приветы всем кто еще не бросил самый кульный комп на свете - Spectrum!!!
Смотрите описание печь под казан купить тут.