Наш гость - В гостях группа Laser Software.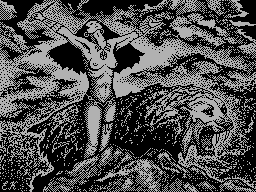 ╔══──══──══──══──══──══──══──══──══──══──══──══──══──══──══──══╗




│  

 НАШ ГОСТЬ      

 │




╚══──══──══──══──══──══──══──══──══──══──══──══──══──══──══──══╝



(C) MITCHELL/LS HARDWAVE

   Привет друзья, сейчася расскажу о нашей группе - LS. Возможно
скоро группа полностью переименуется в НТ - Hardwave Team.

 Cостав группы:
     Steel Dragon - organizer, coder, e-mail service, swaper
    Mr.Z - ideasman, designer, music & gfx maker, main swaper
       Mitchell - music maker, swaper, some co-coordinator

   Под  маркой  LASER  SOFT  (LS)  иногда выходили загрузчики от
Димана  Потапова  с  94-ого  года,  который  сам себя еще раньше
называл D.V.P.. Позже он взял себе псевдоним Steel Dragon.
   Примерно  в  96-ом  году  к  нему присоединился Жека Лещуков,
который сейчас в народе известен под псевдонимои mr.Z. Жека стал
писать  музыку  еще  когда  у него самого не было компа и он это
делал у SD (Steel Dragon'a).
   Весной 97-ого года я (Mitchell) переезжаю из Норильска жить в
Московскую  область,  летом через AYK'а знакомлюсь с SD, а потом
чуть  позже  с  mr.Z,  который  в  ту пору назывался просто Zet.
Осенью я вхожу в состав LS.
   Вы  можете  еще  прочитать интервью с нами в тульском журнале
Voager #1 за 07.07.98 число, который можете заказать по адресу:
   300001,  г.  Тула,  ул  Пролетарская,  дом  34, кв.41, Тюкову
Владимиру.
   Мы  сотрудничаем  и  переписываемся  с  различными группами и
людьми. И конечно мы знакомы с некоторыми лично.
   Пользуясь случаем передаю приветы! Поехали!

   Moscow: ZX-Net sysops, special to Andy Nik, Wlodek Black,
   Mic/PGS, Antares, ZX-Shadow, Sts, Alex (R).
   Moscow region: SD, mr.Z, Terminator, Langauder Andrew.
   Kovrov: Proxima, Eternity Industry.
   Chellyabinsk: Triumph union (special 4 Ice & Blade).
   Rostov on Don: Omega HG (specila 4 Jocker, Klim).
   Cheboksary: THH, Phantom Family.
   Norilsk: Nortec, Dodo, Kolesnikov S., Maxs, Somebody.
   Kazan: Excess Team.
   Abakan and region: Kf & SV studio, Mr.Brain.
   Chaykovskiy: CiC.
   Kemerovo: PlayGear Company.
   Kurgan and region: Computer Rats Group (special for Eagle,
      Dx 69, Diver, Rla, Abracadabra), Serzh,
      L.W..
   Tula: Dio-Gen (Dr.Dash, Dude, A.N.D.Y., Last Zahary),
 Olive-Branch, Mayhem.
   Also hello to best elite people on Speccy: Code Busters,
   Flash, Copper Feet, Entite, Rush, AMD, Progress, X-Trade,
   XL-Design, E-Mage, Golden Disk, Stalker, ALEM, Style Group
   and others...
----------------------------------------------------------------
   Работы от Laser Soft:
   some disk version games, LS boot, Serzh19, Dr.Dash22, 4Z,
   mr.Z16, ST>DMM, more musics for Deja Vu, Voyager, ZX-Review,
   Mitch21 trackmo, some works for E'97 and other...

   #      # @ ######## ###### #    # #####  #      #
   ##    ## #    #     #      #    # #      #      # 2.08.98
   # #  # # #    #     #      ###### #####  #      #
   #  ##  # #    #     #      #    # #      #      #
   #      # #    #     ###### #    # #####  ###### #####



---
Другие статьи номера:
Наш гость - В гостях группа Laser Software.
---
---
Похожие статьи:
---
В этот день... 26 сентября
---